San Diego Palliative Care
San Diego Palliative Care services provided by Avalon Hospice.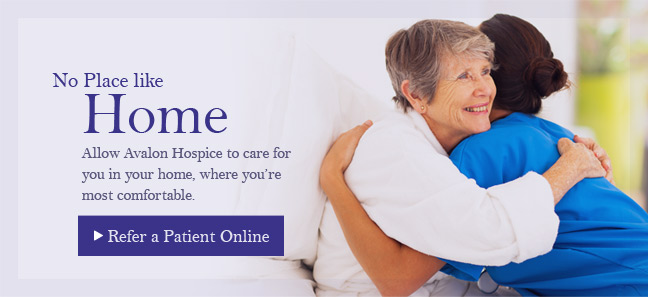 Palliative care Definition:
Palliative care is the approach to help improve the quality of a patient's life due to a life-threatening illness. Treatment of pain and problems such as physical and psychological as well as spiritual assistance. This approach is provided to both the patient and family.
The difference between Palliative Care and Hospice Care
Palliative care is for anyone with a serious illness at any age, stage of illness. You can also have palliative care along with a curative treatment. It's not dependent on a prognosis from your doctor.
Hospice care is for terminally ill patients that may only have months left to live. Also, they're no longer receiving curative treatments.
How our San Diego Palliative Care Services can Help
Allow our high quality San Diego palliative care services to give you peace of mind. Our San Diego palliative care services are recognized by Joint Commission in San Diego county. Avalon has been accredited by joint Commission San Diego. (JCAHO).

Our palliative care staff works hard to ensure high quality patient support. -Treating the patient as a whole. We make sure the patient and family understands everything they need to know about palliative care.
Manage pain and symptoms
Address the needs of the patient and their families
Coordinate care with doctors, nurses, pharmacist, family, and caregiver
California Residents -You can Start Palliative Care Early!
Did you know, in California, Palliative care can take place at the same time you're receiving treatments for your illness? We recommend you start palliative care early because there's no need to wait before pain or symptoms become worse.
Your Insurance Will Cover the Cost of Palliative Care
Most insurance plans, including Medicare and Medicaid cover palliative care services.
We coordinate palliative care seamlessly with other health care programs such as home health services and hospice care in San Diego.
Getting Palliative Care in San Diego is Easy. Just Contact Us Today
You might have heard about Avalon hospice and Palliative care services in San Diego. You don't have to be a doctor to submit an instant online referral. We work with primary physicians – you may not have to switch doctors. We know all this can sound confusing, so we're here 24/7 to offer you phone support: (858) 751-0315
Save
Save
Save
Save
Save
Save
Save
Save
Save
Save