Hospice Care in San Diego, 92105
Hospice Care in San Diego provided by Avalon Hospice and Palliative Care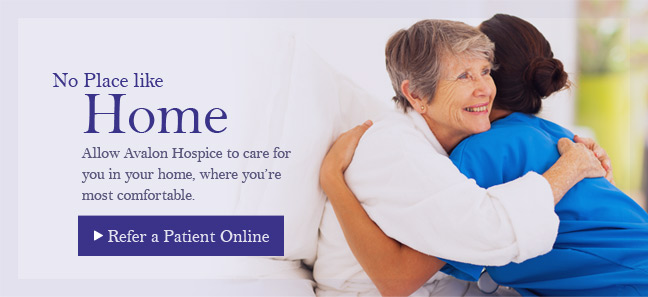 Looking for hospice care in San Diego?
At Avalon Hospice in San Diego, we provide both San Diego hospice and palliative care.
We're here to provide care and support to our patients,  families, and caregivers so they don't feel alone.
Contact us today (858) 751- 0315 if you want to refer a loved one to hospice care. We're here to answer all of your questions at this difficult time. We understand that you would prefer to speak to someone, rather than navigate online for answers.

The Best Hospice Care in San Diego, CA.
You can have peace of mind knowing that Avalon Hospice care in San Diego is an accredited hospice. Avalon has been awarded accreditation from the joint Commission San Diego. (JCAHO)
Our Goals
Providing a high quality program of hospice care services that acknowledges death as a normal event
To provide direct patient care in the comfort of your own home. Coordinated with the family, patient, caregiver, and doctors
Offer short-term inpatient care for pain management for the patient. The patient's pain and symptoms will be closely monitored in order to be controlled.
The be there for the family and caregiver when they need a rest from stress involved from caring for the patient
To make a commitment to cost-effective management, utilizing all available mechanisms for payment, retain management responsibility for the patient's care.
To increase awareness of the needs of the dying.
To provide constant quality hospice care that responds to the physical well-being, social, spiritual. and emotional  needs of the patient, family, and caregiver.
Comfort Care at the End of Life
Avalon hospice and Palliative care serves San Diego patients facing terminal illness.
Hospice care is not about giving up or losing hope. Hospice care is about redefining ones hope. Hoping for a more peaceful end-of-life and a richer environment.
Our focus is to help give the highest quality of care and support to both the patient and their family. During the final phase of a terminal illness, we make sure the patient's final days are as peaceful, comfortable, and pain-free.
Hospice Care at Home
Avalon hospice care is different. We go beyond physical needs.
We believe people at the end of life are more comfortable at home with their family and pets. Not in a busy, noisy hospital bed.
We care for you in your home, where you're most comfortable. It's our team that makes a difference. Our home-health aides, nurses, doctors, volunteers, and social workers provide compassion and support 24/7.
We understand this is a difficult time for both the patient and family. We have many qualified hospice volunteers that reflexology, spiritual guidance, music therapy, and more. We provide counselors and help families cope with grief and loss.
Home Care in San Diego you can Trust
Every hospice team member has gone through rigorous background checks and screening processes. All of our team members have been hand picked and has met with strict federal, state and local requirements.
Thank you for learning more about our hospice care in San Diego services.
Save
Save
Save
Save
Save
Save
Save
Save
Save
Save
Save
Save
Save
Save
Save
Save
Save
Save
Save
Save
Save
Save
Save